Black Bean Soup (Sos Pwa Nwa)
2013-12-30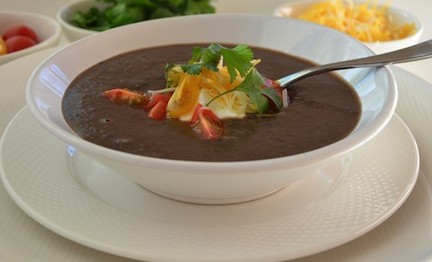 Servings :

8

Prep Time :

5m

Cook Time :

1:30 h

Ready In :

1:35 h
Here is the Haitian version of black bean soup (Sauce Pwa). This soup is usually served with white rice and can be made with other varieties of beans. It has a creamy savory flavor and is one of our favorites.
Ingredients
16 oz Bag black beans
1 cup of coconut milk
1 tbs Salt
1 tbs Pepper
2 tbs Olive oil
1 tsp Ground cloves
1 chicken bouillon
8 cups of water
Method
Step 1
In a 5 qt pot, boil water and beans until soft (approximately 1 hour). You may need to add water as the beans boil.
Step 2
Once the beans are soft, add 3/4 of the beans to a blender and puree' the beans with water from the pot.
Step 3
Run the puree' through a strainer while returning it to the beans still in the pot.
Step 4
Add the oil, coconut milk, salt, pepper and chicken bullion to the pot and stir slowly.
Step 5
Cook the beans on low heat for 15 min and then serve with white rice.
Suggested Products

Average Member Rating
(4.2 / 5)
24 people rated this recipe
11,965
Recipe Comments