Beef Liver and Onions (Fwa Bef Ak Zonyon)
2014-08-23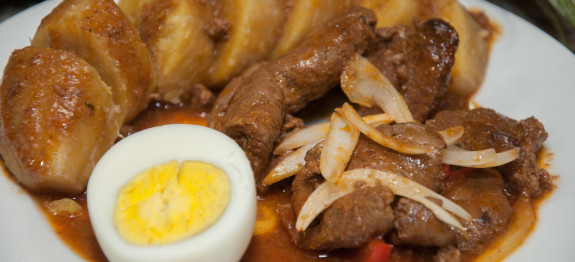 Servings :

4-6

Prep Time :

15m

Cook Time :

20m

Ready In :

35m
Beef is a very high commodity in Haiti, so when a cow is slaughtered, nothing goes to waste. Organs in particular have a very unique taste and can either taste really good in the right hands or really bad in the wrong. When cooking Beef Liver or (Fwa bef) its all about the temperature. Cooking it too high and you can end up with a piece of leather. Cook it too low and you will end up with what looks like mushy ground beef. The secret is to sauté high and finish low.
Ingredients
1 lb of Beef Liver
1/4 cup of chopped onions
3 Limes Juiced
1/2 tsp of salt (or to taste)
3 Tbs of white vinegar
1/4 cup of vegetable oil
2 Tbs of tomato paste
1/2 cup of water
3 Tbs of Haitian Seasoning Base (Epis)
Making Haitian Seasoning Base (Epis)
Method
Step 1
Bring a large pot of water to boil.
Step 2
While the water is boiling, place the liver in a heat resistant bowl and pour the lime juice over the liver and mix it thoroughly.
Step 3
Take the boiling water and give the liver a quick blanching by pouring it over the liver in the bowl.
Step 4
Strain the water after a few seconds and marinate with the Haitian seasoning base for at least 15 min.
Step 5
In a large skillet, heat the oil over medium high heat and sauté the beef liver until golden brown.
Step 6
Add a the tomato paste, onions and 1/2 cup of water to the pan and continue cooking for 5-7 minutes
Step 7
Salt to taste and lower the heat to avoid over cooking.
Step 8
Serve with a side of boiled plantains and a hard boiled egg.
Suggested Beef Liver Products

Average Member Rating
(4 / 5)
7 people rated this recipe
6,688
Recipe Comments