Peanut Brittle (Tablet Pistach)
2014-02-13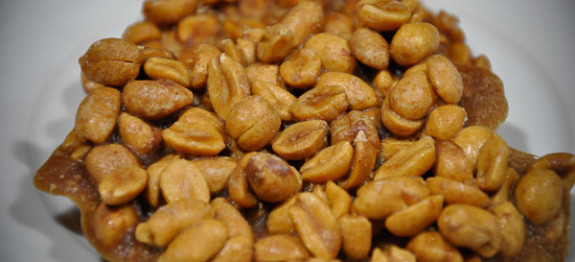 Yield :

6-8 pieces

Servings :

6

Prep Time :

5m

Cook Time :

10m

Ready In :

30m
One of the most popular and common candy you will find is a Peanut Brittle (Tablet Pistach). As a kid my mother would make this candy for us to get an understanding of our heritage. Years ago, Sugar was one of Haiti's cash crops. Haiti has decreased its production of sugarcane, because of declining prices and fierce international competition but the impact the industry has on the culture still remains. Peanut Brittle (Tablet Pistach) is a result of the sugar industries impact.
Ingredients
1/4 cup of Roasted Peanuts
3/4 cup of light brown sugar
1/2 tsp of Vanilla extract
1 tsp of grated ginger
2 tsp of cinnamon powder
1 tsp of grated nutmeg
1/2 tsp of Anise Star extract
1/4 cup of Water
1/2 tsp salt
large nonstick sauce pan
Parchment paper or Nonstick baking mat
Method
Step 1
Add the water, sugar, vanilla extract, ginger, cinnamon, nutmeg, salt, and anise star extract to the sauce pan and bring to a boil.
Step 2
Add the peanuts and boil for 10-15 min or until mixture has thicken.
Step 3
Remove the pan from the heat and continue to stir until the liquid has evaporated and the mixture is sticky.
Step 4
Using a spoon place 6 large cookie sized amounts on the parchment paper of nonstick backing mat.
Step 5
Place the pieces in a cookie jar when cool.
Suggested Peanut Brittle (Tablet Pistach) Products

Average Member Rating
(4.3 / 5)
19 people rated this recipe
5,849
Recipe Comments