Haitian Stewed Chicken (Poule en Sauce)
2013-12-31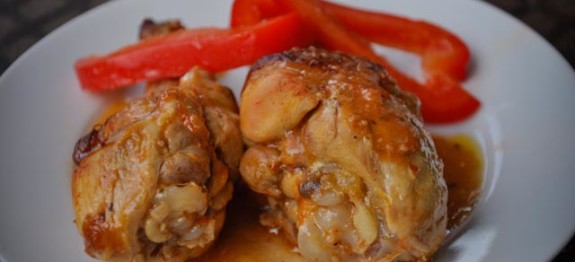 Servings :

4-6

Prep Time :

15m

Cook Time :

30m

Ready In :

60m
Haitian Stewed Chicken (Poule en Sauce) is a traditional recipe that is cooked using varios methods. It is typically served with a side of rice. Here is our version of chicken stewed in a creole sauce.
Ingredients
1 lb Chicken
1/2 Onion diced
2 tsp Minced Garlic
1 tbsp of lime juice
4 sprigs of fresh thyme
4 sprigs of fresh parsley
1 Scotch Bonnet Pepper
1 tsp black pepper
1/2 Red pepper julienned
1 Maggi Chicken Bouillon Cube
1 tbsp of Adobo all seasoning
1/2 cup White vinegar
2 tbs Tomato Paste
Method
Step 1
Clean the chicken using the Haitian meat cleaning method. Clean the chicken with lemon or sour orange juice and vinegar. Rinse in hot water.
Step 2
Create a marinade with garlic, parsley, thyme, black pepper, chicken cube, and seasoning salt.
Step 3
Season the chicken with the marinade and let it marinade at least 15 min. Marinating the chicken overnight in the refrigerator will give the meat more time to take on the flavor.
Step 4
In a large saucepan, brown the chicken on both sides.
Step 5
Add a half cup of water to the sauce pan along with the tomato paste, onions, and peppers.
Step 6
Stew the chick on medium high heat for 25 minutes.
Step 7
Reduce the heat to low and let it simmer until it is ready to serve.
Suggested Products

Average Member Rating
(4.3 / 5)
35 people rated this recipe
12,903
Recipe Comments