Haitian Eggs and Plantains (ze ak bannann)
2014-01-18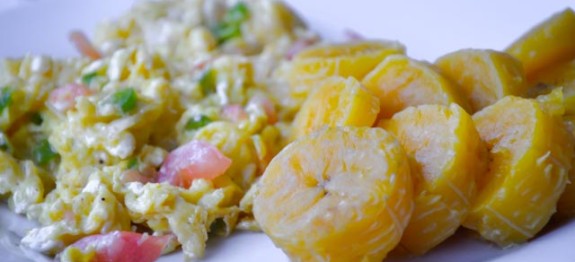 Servings :

2

Prep Time :

15m

Cook Time :

15m

Ready In :

30m
In Haiti a common breakfast in the countryside is spicy Haitian Eggs and plantains (sweet). This sweet an spicy combo gives you a nice kick of proteins, carbs, and a some veggies. You can switch up the veggies to your taste.
Ingredients
4 large eggs
2 Plantains (Semi ripe)
1/2 cup of Diced Onions
1/2 cup of Diced Green Peppers
1/2 Cup of Diced Tomatoes
1 tsp of diced Scotch Bonnet Pepper
1 Tbs Olive Oil
1tsp of Salt
1 tsp of Adobo All seasoning
1tsp black pepper
Method
Step 1
In a 1 quart pot add 2 cups of water, 1 tsp Salt and bring to boil.
Step 2
Add the cut the small ends of the plantains, cut it in half, and add it to the boiling water with the peel for about 15 min. *Note if you boil it without peel you may get mush.
Step 3
Crack the eggs open in a bowl. Add 1tsp of Adobo All Season, tsp salt, 1tsp pepper and mix thoroughly.
Step 4
In a large frying pan saute' the diced onions, peppers, tomato, and Scoth Bonnet pepper for about 5 min.
Step 5
Add the eggs and scramble for about 5- 10 min.
Step 6
Remove the peel from the plantain and serve with the eggs.
Suggested Products

Average Member Rating
(4.3 / 5)
11 people rated this recipe
7,048
Recipe Comments