Haitian Beef Stew (Bouyon Bef)
2014-01-07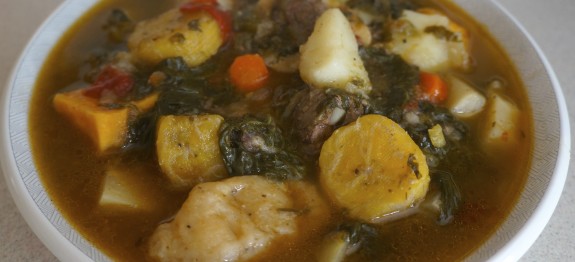 Servings :

6-8

Prep Time :

1:15 h

Cook Time :

1:15 h

Ready In :

1:30 h
Bouyon bef or Haitian beef stew is a hardy traditional stew cooked through out Haiti. Haitian Beef Stew (Bouyon Bef) is typically cooked when the temperature drops or when ever you are feeling under the weather. There are many variations of the stew but it typically made with beef, plantains, dumplings and malanga. Here is our version.
Ingredients
1 pound cubed beef
2 limes cut in half
1 large onion
4 scallions
4 garlic cloves (Crushed and chopped)
2 tbs salt
½ tbs black pepper
2 Cloves
2 Bay leaves
2 prigs parsley
1 thyme sprig
2 carrots peeled and sliced
2 celery sticks
1 Malanga (cut into chunks)
2 plantains
1 yucca
10 ounce of spinach
Soup Dumplings (Ingredients)
2 Cup of Flour (White or Whole Wheat)
1 tbs Oil (Vegetable or Olive)
1 tsp All season spice
1 tsp Nutmeg
1 tsp Cayenne pepper
½ cups of Water
Method
Step 1
Clean meats using haitian meat cleaning method. (With lime and hot water)
Step 2
Marinate meat with scallions, garlic, salt and pepper for a minimum of 1 hour in the refridgerator.
Step 3
While the meat is marinading make dumplings by mixing all the soup dumpling ingredients in a seperate bowl. Once thoroughly mixed shape and set aside.
Step 4
In a a large pot, brown the meeat with the marinade and brown over medium heat.
Step 5
Add 1 quart water, cloves, bay leaves, parsley, and thyme to the pot and continue cooking on medium heat for 40 min. Stir the pot occasionally.
Step 6
Add 3 quarts of water and bring the pot to a boil.
Step 7
Add carrots, celery, malanga, plantains, yucca, and spinach and cook for 20 min.
Step 8
Add the dumplings and simmer for 20 minutes uncovered. (* Note Do not stir when dumplings are in the pot. Stirring will cause them to fall apart.)
Step 9
Serve hot.
Suggested Haitian Beef Stew (Bouyon Bef) Products

Average Member Rating
(4.3 / 5)
26 people rated this recipe
14,120
Recipe Comments