Fried Green Plantains (Bannann Peze)
2013-12-30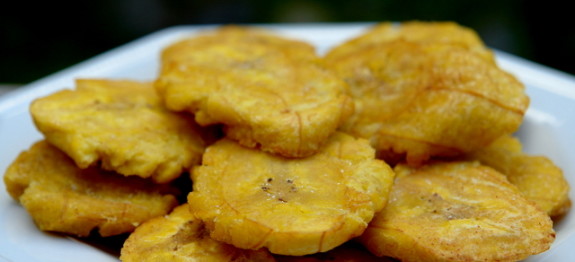 Yield :

12

Servings :

4

Prep Time :

5m

Cook Time :

10m

Ready In :

15m
Plantains are a staple in pretty much every haitian meal. The most common method of cooking plantains is frying them which can be served as an appetizer or a side dish. Fried plantains are usually served with other fried meats such as pork, chicken and goat. Here is a basic recipe if you are looking to learn how to cook Haitian food.
Ingredients
3 Green Plantains
1 tablespoon(s) Vinegar
1 tablespoon(s) Salt
1 teaspoon(s) Garlic Powder
1 cup(s) Vegetable Oil
1 Tostonera (Plantain Press)
1 cup(s) Hot Water
Method
Step 1
Heat Oil on medium high heat in a deep fryer or frying pan.
Step 2
Peel plantains and angle cut each one into 5 equal pieces.
Step 3
In a bowl add the hot water, vinegar, salt and set aside.
Step 4
Lightly brown the plantains in the oil (Approximately 5 min).
Step 5
Remove the plantains from the oil and flatten each plantain using the tostonera.
Step 6
Soak the flattened plantains in the hot water and carefully back in the oil for an additional 5 min.
Step 7
Remove plantains from oil and place them on a paper towel to remove the excess oil.
Step 8
Serve Hot.
Suggested Products

Average Member Rating
(4.6 / 5)
23 people rated this recipe
10,122
Recipe Comments