Pickled Slaw (Pikliz)
2013-12-30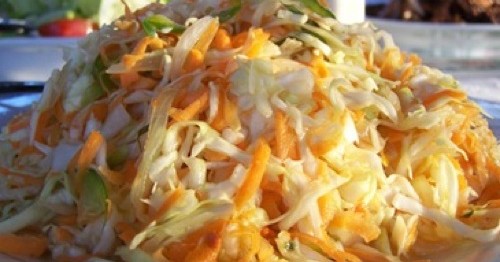 Servings :

20

Prep Time :

20m

Ready In :

20m
The Pikliz is spicy crunchy salad typically served as a side dish at Haitian meals. Flavor vinegar from pikliz is often used in marinades or to give dishes a spicy-sour punch.
Ingredients
1 Cabbage
2 Carrots (Peeled)
1 Onion
3 Scotch Bonnet Peppers
4 Garlic cloves
2 teaspoon(s) Salt
8 Pepper Corns
Method
Step 1
Cut the cabbage in half and using a shredder, shred one of the halves into a bowl.
Step 2
Repeat the process for the carrots, onion, peppers, and garlic cloves.
Step 3
Add the peppercorns, salt, and vinegar to the bowl.
Step 4
Mix all the ingredients thoroughly.
Step 5
Transfer all the contents of the bowl including liquids into a large glass container and store in the refrigerator for 24 hours to allow the pickling process to complete.
Suggested Products

Average Member Rating
(4.6 / 5)
14 people rated this recipe
6,481
Recipe Comments