Haitian Beet Salad (Salade de Betteraves)
2014-10-04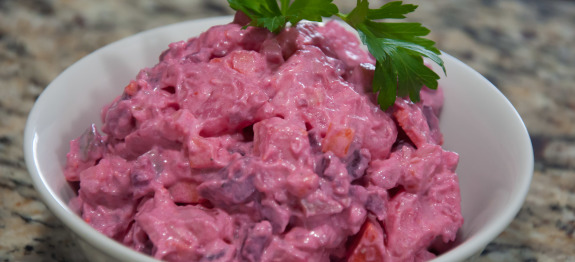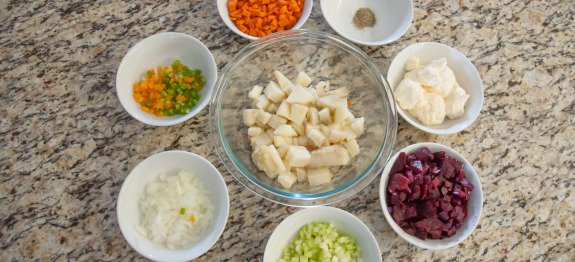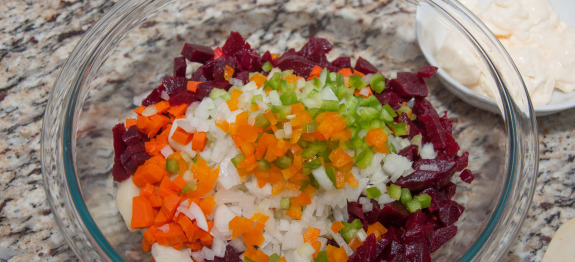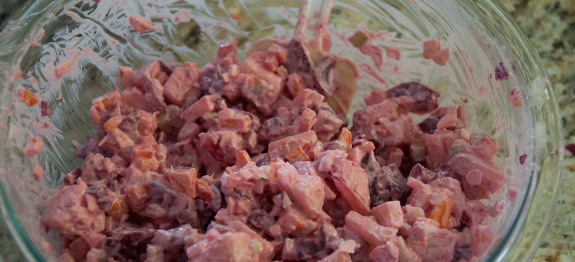 Servings :

8

Prep Time :

10m

Cook Time :

15m

Ready In :

30m
If you have never had beets in your potato salad, then you have been missing out big time. Haitian beet salad has a flavor that will have you coming back for second and third servings. When people first see this pink/purple-ish meal looks unnatural, but after the first bite it's hard going back to boring potato salad.
Ingredients
4 red potatoes
2 Beets
1 celery stalk diced
1/2 Onion diced
1/2 green pepper diced
1/2 cup of mayonnaise
1/2 tsp pepper
1/2 salt (or to taste)
1 large carrot diced (about 1/2 cup)
Method
Step 1
In a 1qt pot boil beets for 5 min.
Step 2
Add the potatoe to the pot and continue boiling for another 5 min.
Step 3
Add the carrots and boil for a final 5 min.
Step 4
Drain the water and allow the beets and potatoes to cool before peeling.
Step 5
Once peeled, dice beets and cube potatoes.
Step 6
In a large mixing bowl, add all the ingredients and mix thoroughly.
Step 7
Place in refrigerator and serve cold.
Suggested Haitian Beet Salad Products

Average Member Rating
(3.9 / 5)
9 people rated this recipe
9,348
Recipe Comments