Pumpkin Soup (Soup Joumou)
2013-12-30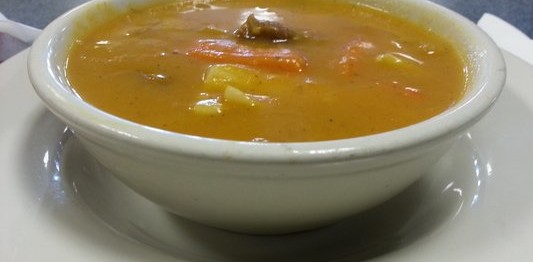 Yield :

8

Servings :

8

Prep Time :

20m

Cook Time :

2:00 h

Ready In :

2:20 h
Soup Joumou is traditionally consumed on New Year's Day (January 1), as a historical tribute to Haitian independence day in 1804 where newly freed slaves consumed the soup, a meal forbidden to them by their French masters. Ingredients in the soup tend to vary and is usually driven by the cook.
Ingredients
1 pound(s) Beef Stew Meat
10 cup(s) Water
1 Scotch Bonnet Pepper
2 pound(s) Pumpkin
2 Peeled Carrots
2 Celery Stalks
5 Parsley Spigs
1 cup(s) Diced Onions
2 Peeled Turnips diced
2 Potatoes Cubed
1 pound(s) Cabbage chopped finely
1 pound(s) Thin Spaghetti
2 Limes
1 Can of Tomato Paste
1 cup(s) Tomato Sauce
Method
Step 1
In a medium pot, cook pumpkin over medium heat in 6 cups water for 30 minutes.
Step 2
Puree pumpkin in the water.
Step 3
While pumpkin is cooking, clean meat with lime, rinse with hot water and drain.
Step 4
Marinate meat with meat rub or Rub the meat with the spice paste-scallions, onion, thyme, garlic, shallot, , green pepper, salt and black pepper ground together. (For an enhanced flavor, you can marinate the meat from 1 hour up to one day in advance .)
Step 5
In stockpot, add the meat with the oil and tomato paste and brown by adding small amounts of water to caramelize the meat.
Step 6
Cook covered over medium heat for 20 minutes.
Step 7
Add 3 cups water and puree pumpkin and bring to a boil.
Step 8
Add the cabbage, carrots, celery, onion, turnips, tomato sauce, potato and parsely to the soup, bring to a boil, then reduce heat and simmer for 1 hour with a whole scotch bonnet on top. ( The whole scotch bonnet is for flavoring not to make the soup "hot". Remember to find and remove the pepper as you stir the soup and remove it before it bursts)
Step 9
Add the spaghetti broken in to short pieces and cook until soft and tender.
Step 10
Taste and add a minimal amount of salt, black pepper or hot pepper to taste.
Step 11
Turn off the heat, cover the pot, and let sit until ready to serve.
Suggested Soup JoumouProducts

Average Member Rating
(4.6 / 5)
11 people rated this recipe
5,362
Recipe Comments