Haitian Fried Pork (Griot)
2013-12-30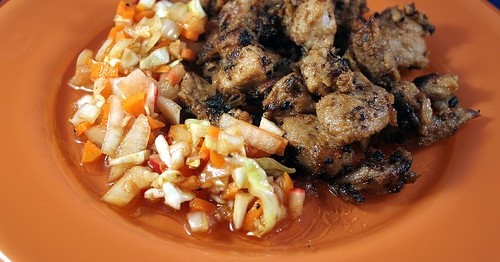 Servings :

8

Prep Time :

40m

Cook Time :

20m

Ready In :

60m
Fried Pork (Griot) is a rich, flavorful dish that is one of Haiti's most popular food. This dish is served at parties and family gatherings. Cubes of pork are soaked in a sour orange marinade and then slow-roasted until tender. The tender morsels are then given a finally fry in oil until delectably caramelized. Griot is undoubtedly a must when it come to Haitian food. This dish goes great with plantains and a side pik liz.
Ingredients
2 pounds beef, cut in cubes (or pork)
1 cup chopped onions
1/2 cup green peppers
1/2 cup red peppers
1/4 cup chives, chopped
1/2 cup bitter orange juice
1/4 cup Vinegar
1/4 cup water
3 Stalk of Thyme
1/4 cup chopped Parsley
1/2 cup Haitian Marinade**
1/4 teaspoon salt
1/4 teaspoon black pepper
1/2 cup of vinegar
1 beef bouillon cube
Method
Step 1
Cut the meat into medium pieces.
Step 2
Wash thoroughly with the lime and/or sour orange juice.
Step 3
Season well with Adobo seasoning salt, rosemary, thyme, parsley, garlic powder, pepper and let marinate for 4 hours.
Step 4
In a saucepan, cover meat with water and boil over medium-high heat until water evaporates.
Step 5
Stirring occasionally, continue to cook until meat is tender.
Step 6
Remove the meat and set aside.
Step 7
In a skillet or deep fryer, heat oil and fry each side to brown evenly.
Suggested Griot Products